Her Chronicle



November 2: Born Maria Antonia Josepha Jeanne in Vienna, Austria, the youngest daughter of the Empress Maria Theresa of Austria and the Holy Roman Emperor Francis I.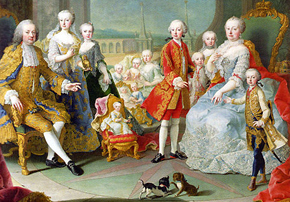 August 18: Death of Francis I, her father.





French marriage alliance proposed by Vienna.





In consideration of the proposed marriage, her name is changed to "Marie Antoinette".





Louis XV requests officially the hand of the Archduchess Marie Antoinette for his grandson and heir, the Dauphin Louis Auguste.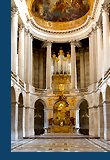 April 17: Ceremony of Renunciation, her renouncement of the hereditary of the Austrian Succession.
April 19: Marie Antoinette was married via proxy to the Dauphin Louis Auguste of France.
April 21: Bridal party begins its journey from Vienna through Germany to Strasbourg.
May 14: Bridal party arrives in Compiegne. Marie Antoinette meets the Dauphin Louis Auguste, her husband.
May 15: Arrival of Marie Antoinette to Versailles.
May 16: Actual marriage ceremony at the Chapel within the walls of the Palace of Versailles.




January 30: Marie Antoinette meets Comte Axel de Fersen at a ball in Paris.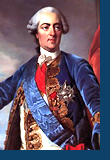 May 10 : Death of Louis XV. Accession of Louis XVI and Marie Antoinette to the French Throne.





July 4: American Declaration of Independence.






December 19: Birth of her first child, Maria Therese Charlotte.





November: Death of Maria Theresa, her mother. Joseph II is no longer Co-Regent, but takes full control of the Austrian Throne.


October 22 : Birth of her second child, Dauphin Louis Joseph.



March 27: Birth of her third child, Louis Charles.
August: Affair of the diamond necklace.
August 15: Cardinal de Rohan is arrested.


Cited Works

Conciergerie Prison © Ducatez JPDB Collection, photograph.

Conciergerie Prison in Paris © 1997 - 2002 Paris Digest ® The Paris Internet city guide and portal, article. http://www.parisdigest.com/ monument/laconciergerie.htm

Estates General Compton's Interactive Encyclopedia
Copyright © 1994 - 1997 The Learning Company, Inc. All Rights Reserved.

Excerpted from Compton's Interactive Encyclopedia
Copyright © 1994, 1995, 1996, 1997 The Learning Company, Inc. All Rights Reserved.

France Under the Regency © 1896 James Breck Perkins. Houghton, Mifflin, and Company, The Riverside Press, Cambridge. Boston and New York.

Francis I, the Holy Roman Emperor © Wikipedia, the Free Encyclopedia http://www.wikipedia.org/wiki/Francis_I%2C_Holy Roman_Emperor

Francis II © 1949 W. C. Langsam, biography.

Jacques Turgot, painting http://www.arts.ualberta.ca/~nwickend/ Hist209/pixlist.htm

Joseph II © Copyright 2002 The Columbia Encyclopedia, Sixth Edition. Columbia University Press

Leopold II © Copyright 1994, 2000 The Columbia Electronic Encyclopedia. Columbia University Press. Licensed from Columbia University Press. All rights reserved.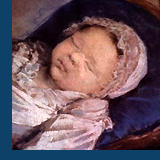 July 9: Birth of her fourth child, Sophie Beatrix.





June 19: Death of Sophie Beatrix.



August 8: EstatesGeneral summoned.
December 27: Third Estate given double representation.



May 5: Opening session of the Estates General.
June 4: Death of Dauphin Louis Joseph. Her younger son, Louis Charles, becomes the Dauphin.
July 14: Outbreak of the French Revolution and raiding of the Bastille.
July 17: Third Estate declares itself the National Assembly.
June 20: Tennis Court Oath was signed by 576 members out of 577 of France's Third Estate.
June 23: Third Estate defies King after Royal Session.
July 14: Capture of the Bastille.
July 17: Louis XVI accepts the Paris revolution.
October 5-6: Popular uprising forced the King and the royal family's removal to Paris and the Palace of the Tuileries.







February: Death of Emperor Joseph II. Accession of Leopold II to the Austrian Throne, her nephew.
June 19: Abolition of Nobility.





June 21-25: The royal family fled by night to Varennes, where the King is recognized. The royal family is arrested and returned to Paris.
September 14: The King accepts the Constitution of 1791.
September 30: The close of the National Assembly.





March 1: Death of Emperor Leopold II. Accession of Francis II to the Austrian Throne.
April 20: France declares war upon Austria.
June 20: Invasion of the Tuileries.
August 10: Angry mob storms the Tuileries Palace and effectively ending the monarchy and suspension of Louis XVI.
August 13: Royal family is imprisoned in the Temple Prison.
December 11: Trial of Louis XVI begins.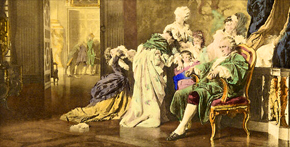 January 21: Louis XVI is publicly beheaded under the guillotine.
Marie Antoinette is transferred to the Conciergerie Prison.
October 16, 12:15 pm: Queen Marie Antoinette dies under the guillotine.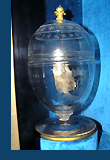 January 21: Funeral of Louis XVI and Marie Antoinette. Their remains were exhumed and moved to St. Denis Basilica.





April 19: Remains (a heart) of a child who died in 1795 were verified via DNA testing that it belong to Louis XVII, the son of Marie Antoinette and Louis XVI.


Marie Antoinette Online © Myrrhine. http://www.myrrhine.net/ antoinette/index.html

Maria Theresa Charlotte © Nick Simon http://nicksimon2.tripod.com/ 34-8.html

Maria Theresa of Austria © Wikipedia, the Free Encyclopedia http://www.wikipedia.org/wiki/Francis_I%2C_Holy_Roman_Emperor

Moments in History #55, The French Revolution Part V Bill "Mastermind' Fitzgerald, article. http://www.users.bigpond.com/ billmastermind/moments55.htm

Napoleon © 1926 Emil Ludwig, Translated by Eden and Cedar Paul, Boni & Liveright, New York, NY

S. K. Padover, The Revolutionary Emperor, Joseph II (rev. ed. 1967); P. P. Bernard, Joseph II (1968).

Schonbrunn © 1994 - 1995 The Columbia Encyclopedia, Fifth Edition, Columbia University Press, article.